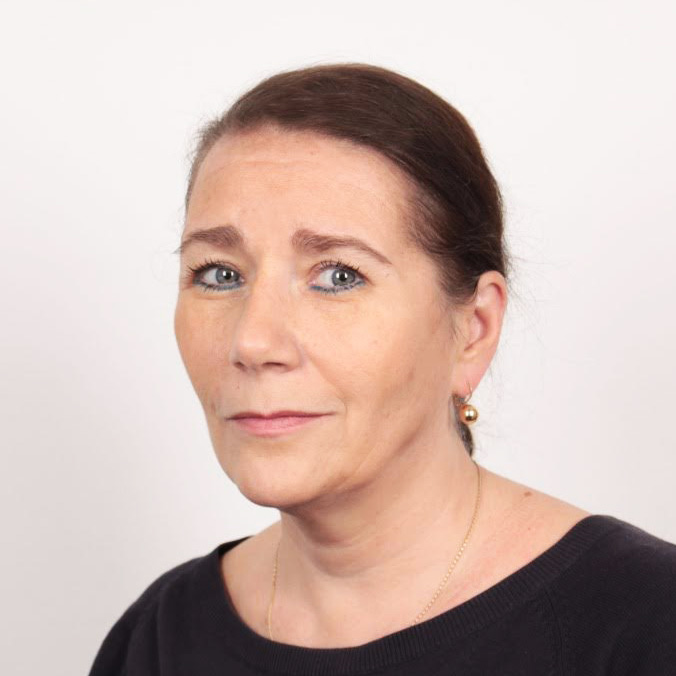 Mgr. Petra Jodasová
Director of the kindergarten, coordinator of the educational process and lecturer of the art club - owner of the kindergarten Little fox

Director Petra has many years of experience in education and working with children. She graduated from the Secondary School of Graphic Arts. After her studies she worked as a graphic designer, but then decided that she wanted to pass on her artistic talents and dedicate her time to the future generation, especially to children. Petra worked for many years in the primary school as a head teacher of the art department, she worked there as a specialist in art education, painting, modeling, ceramics and also dedicated herself to preparing children for talent tests in art, because she found working with children very fulfilling, she decided to complete her education in pre-school and after-school pedagogy. She gained experience with preschool children as a teacher in a kindergarten, where she was in charge of the art and ballet club. For more than ten years, she and her husband were running summer camps. In 2018, she decided to establish kindergarten Little fox with her daughter. She is involved in the preschool's leadership team and coordinating the school's educational program. In her free time, Petra is active in yoga, cycling, nature walks and art. She also enjoys dancing and theater, among other things. Her greatest pleasure is when she can spend time with her family and close friends. Petra enjoys being able to participate in her children's education and develop their fine arts.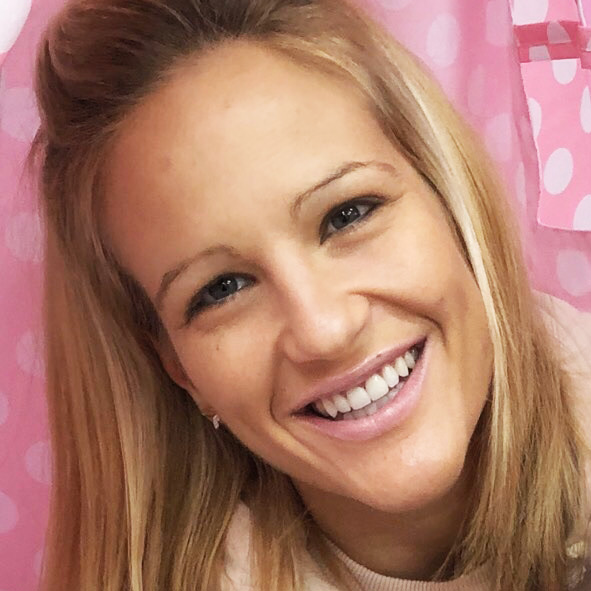 Mgr. Andrea Filipová (Jodasová)
Marketing manager, Communication and enrolment of new pupils, Lecturer of music and educational courses- owner and managing director of the kindergarten Little fox

Andrea was born in Prague, where she attended a primary school focused on music education. In her youth, she was active in singing, performing in the choir Radost, in the children's opera of the National Theatre and also for some time in the choir of the State Opera. She studied at a grammar school with a humanities focus and subsequently graduated from university with a degree in political science. After graduating from university, she started her professional career in a renowned law firm, where she handled public contracts and communicated with clients. During her studies at the university, she was involved in teaching children, organizing children's summer camps together with her parents, and also taught singing and guitar at the Home for Children and Youth, where she gained her first valuable teaching experience. From there it was only a small step to establish the Little fox family bilingual kindergarten, like Maria Montessori, Andrea considers the pre-school years to be the most important period in a child's development. She enjoys observing children's increasing concentration, independence, kindness and mutual respect. She runs a music education course in the preschool where she teaches children to play the piano, flute and guitar. In her spare time she enjoys running, cycling, Thai boxing and various sports activities, she enjoys walking in the woods or in the mountains, the perfect speed for her to observe all the beauty of her surroundings. The Little fox kindergarten she started with her mom is the most beautiful project she has always dreamed of.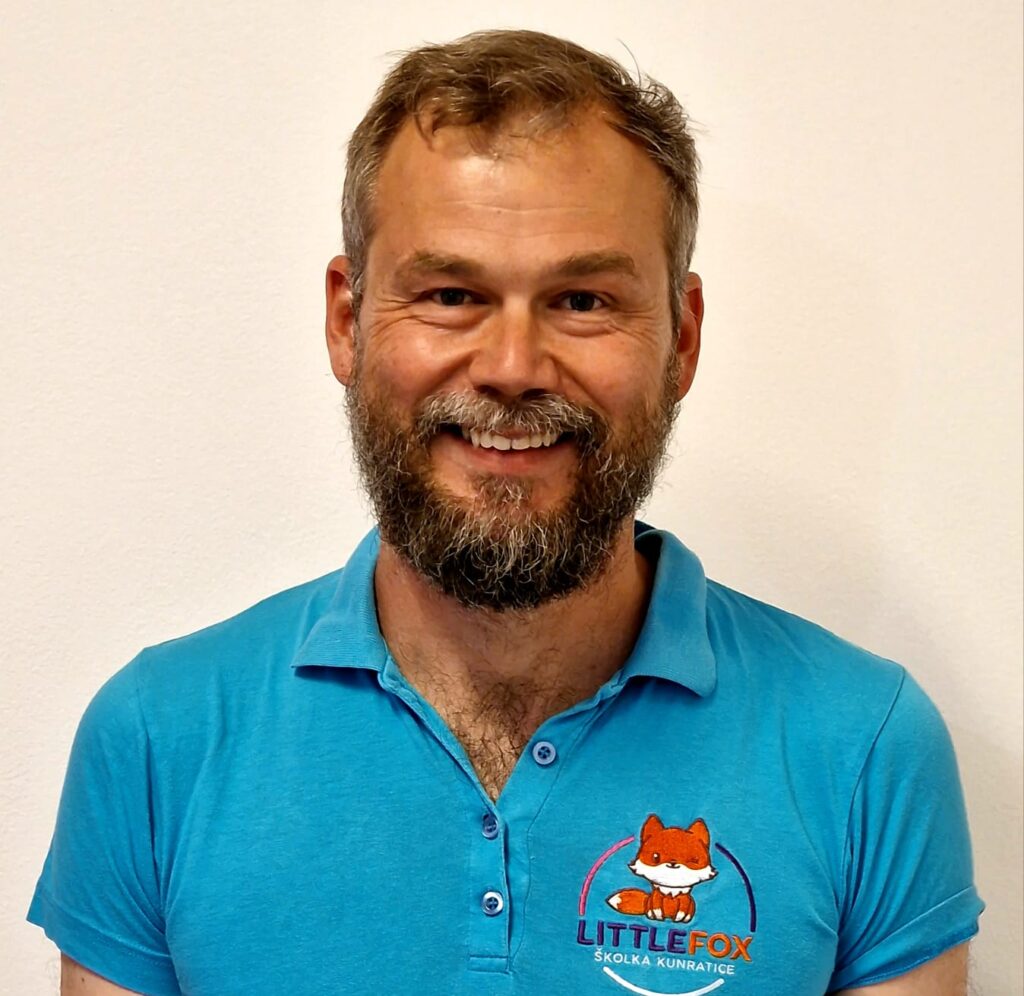 Mgr. Pavel Kolařík
Deputy Director of the Kindergarten - Head Teacher

Pavel has many years of experience in the preschool education. Pavel graduated from Mills High School with a degree in Early Childhood and Afterschool Education and then went on to study for a Master's degree at Charles University in Teaching for Secondary Schools. While still studying at the Faculty of Arts, he began teaching Italian, Portuguese and Czech in secondary schools. He worked as a secondary school teacher at a Czech-Italian grammar school and as a language teacher at a secondary hotel school. After that he left the teaching profession for a while and tried his hand at working in the private sector, leading a team of people as a business manager and trainer in an international company. After some time he felt the need to return to education, but decided to change his age category and tried his hand at teaching in a kindergarten. Working in kindergarten became his great hobby and joy. Coincidentally, he joined a kindergarten that works according to the innovative Start Together programme. He studied and received training in the Starting Together programme and did an internship in the Netherlands, where he gained knowledge about other alternative directions and got acquainted with the conditions of a different pedagogical system. He considers the experience that he was able to gain during this stay in the Netherlands, where he was fully engaged in studying and working with preschool children, to be very valuable. He likes challenges that make sense, he likes to step out of his comfort zone. Fluent in English, Italian, Spanish and Portuguese, teaching languages is his greatest joy and mission. In his spare time, he is dedicated to personal self-development and his interests include film, theatre and literature. Pavel also has two sons, David and Tomas, who are his great inspiration and joy. Pavel is very much looking forward to working in the environment of Little fox kindergarten School with its great staff, but also to working with you, the parents. If you have any questions, please feel free to contact him at any time, he will be happy to talk to you.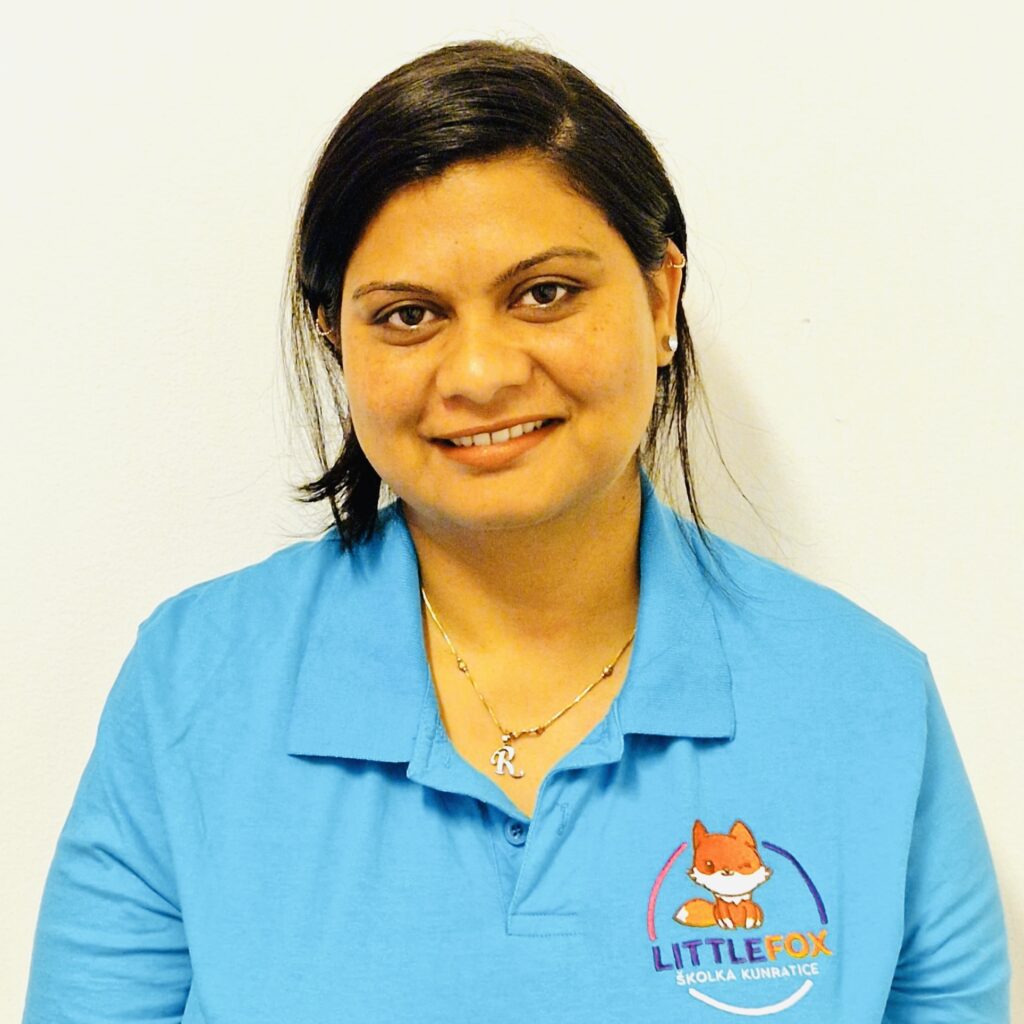 Mgr. Ritu Bansi
English teacher in the Lion cubs class

Ritu was born in India and has lived in the Czech Republic for more than 7 years. She graduated at the Punjab technical university, majoring in business management. During her studies, she started working with children and became interested in early childhood education, this led her to pursue a career in childcare education. She did a course on pre-school education, school maturity and communication with parents. She has been teaching English in kindergartens since 2013. Her motto is "The purpose of human life is to help others", so she tries to pass on her knowledge to the children as best she can, inspiring them to be compassionate and sympathetic, but above all, she guides children to think logically. Ritu loves to observe children, she is fascinated by their world, which is full of endless imagination. In her spare time, she enjoys traveling, reading, and taking nature walks with her husband. Ritu loves cooking, which she actively pursues in her spare time. She finds working with children fulfilling and is most happy when she sees the children develop and grow under her guidance. Ritu believes that children are an endless source of inspiration and energy.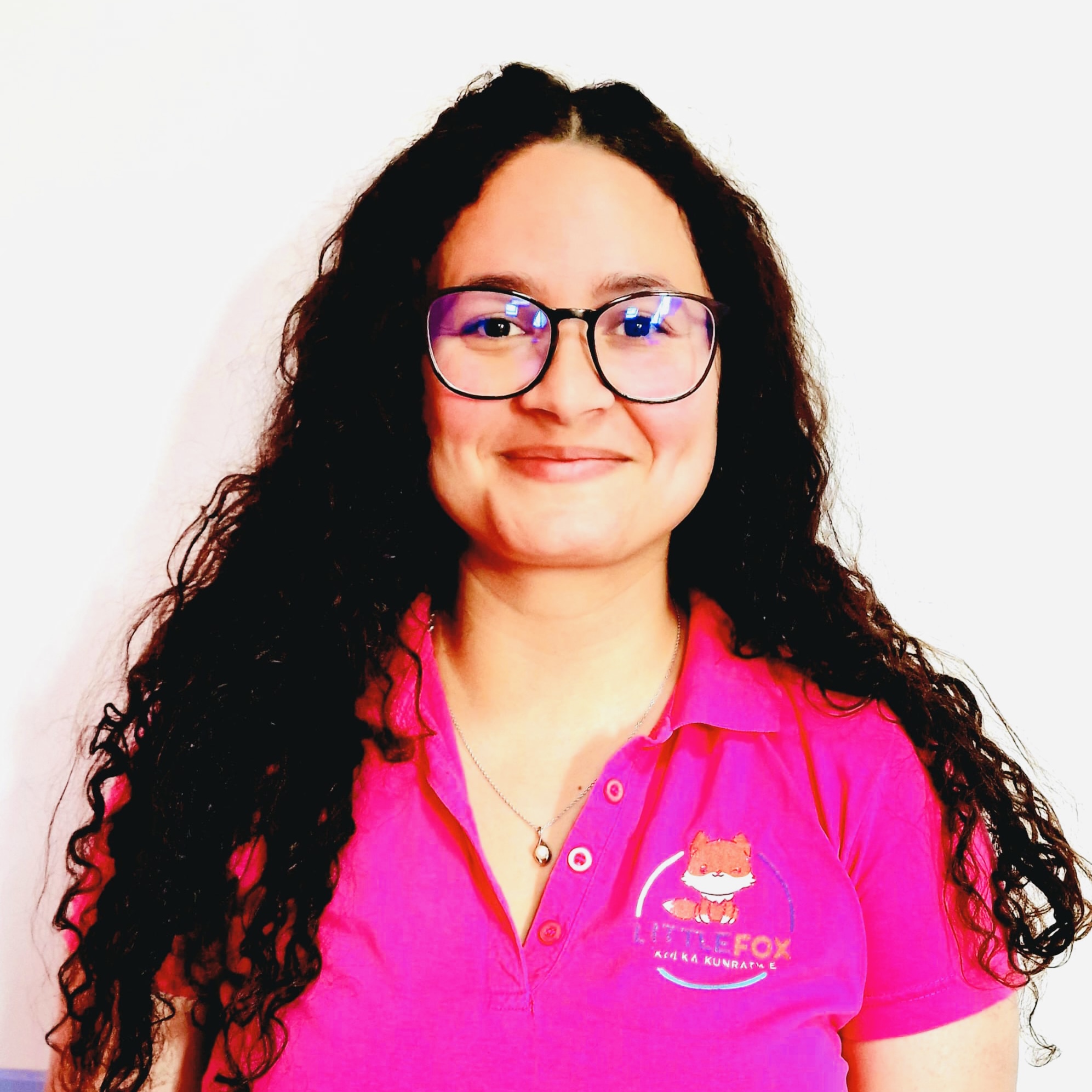 Bc. Amy Morillo
Czech teacher in the Lion cubs class/ sports club teacher

Amy was born in Miami, USA. She grew up in a bilingual environment, so she is fluent in both English and Czech. She studied at the pedagogical Gymnasium in Nová Paka, then studied English and German language with a focus on education at the Faculty of Education at Charles University. Amy has a love for languages in which she is actively interested, she tries to pass on her passion to children by motivating them to learn about other cultures. She has a very warm relationship with the children and enjoys watching them grow and progress. She has a rather restless nature, she likes to constantly make things and invent different creative activities with children. Amy chose to work with children because she believes that educating children is the most valuable thing in the world. She spends her free time growing plants, singing, playing the piano, riding horses and taking care of her dog "Cookie". Amy loves animals and takes an active interest in their training. With the acquisition of a dog, she became interested in canister therapy aimed at children, and wants to further develop in this area. Amy believes that children, plants and animals are an integral part of life. She finds working with children to be meaningful and genuinely enjoys each and every development, however small, that children make. She follows the motto "Do the best as you can and do it because you enjoy it".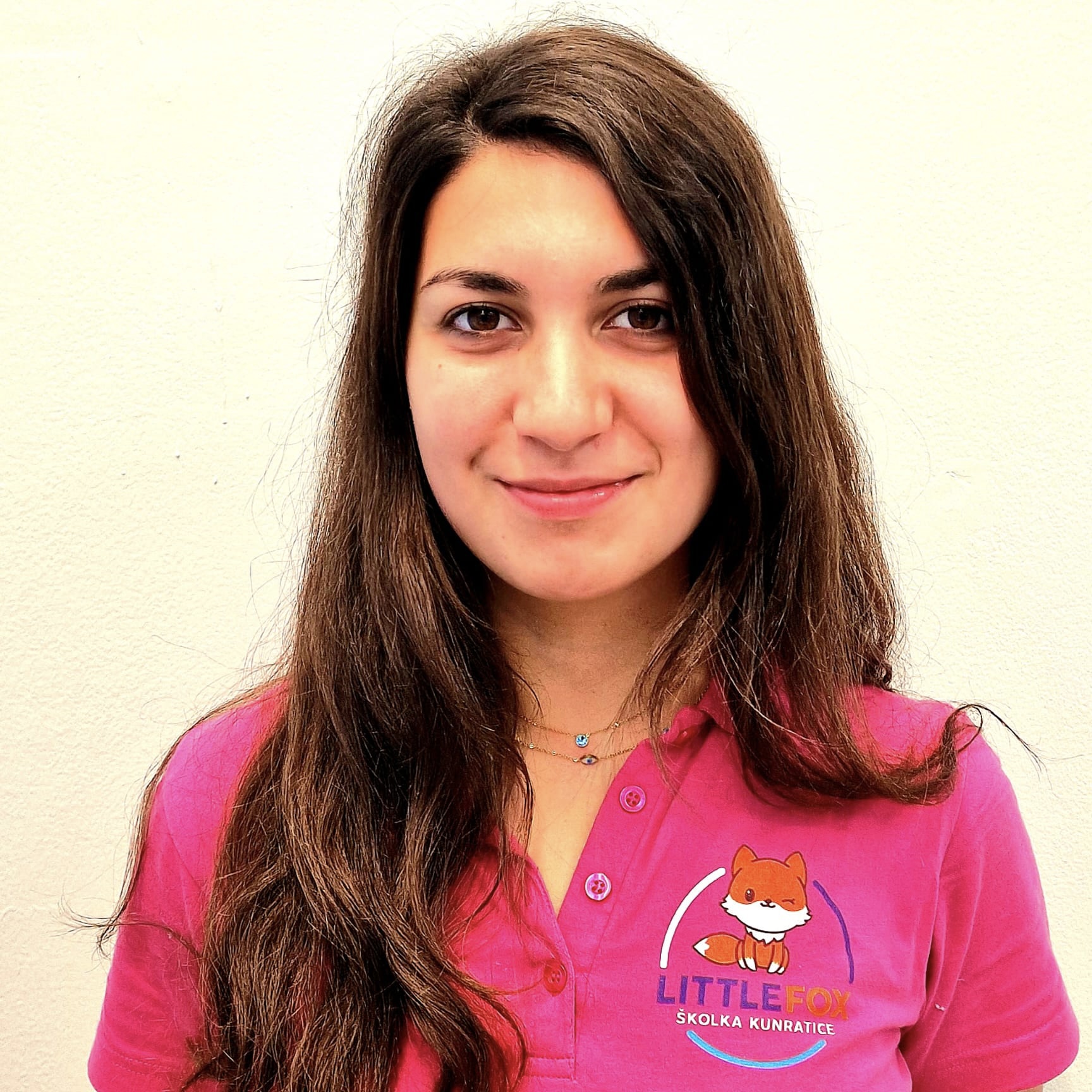 Bc. Despoina Karakoulaki
English teacher in the Foxes class

Despoina is originally from Soluni in Greece and she has recently moved to Prague, which she is very excited about. She studied at Aristel University of Soluni, majoring in Early Childhood Education. Before joining Little Fox Kindergarten, she worked as a teacher in a kindergarten in Soluni, where she obtained a number of certificates (e.g. Creative Play in Preschoolers, Children's Yoga Teacher, Developing Sensorimotor Perception in Children). She worked four years as a camp leader, it taught her how to prepare and implement creative environments in indoor and outdoor settings for children. For the last two years, she has worked as a volunteer for a charitable organization, giving her a wealth of experience in communicating with people. In her spare time, she enjoys reading, traveling, hiking and exploring the outdoors. Despoina likes to play with children, so she believes that the educational process should be mainly based on play, encouraging children to discover new things and thus strengthening their independence. She believes that the teaching profession is extremely rewarding and valuable.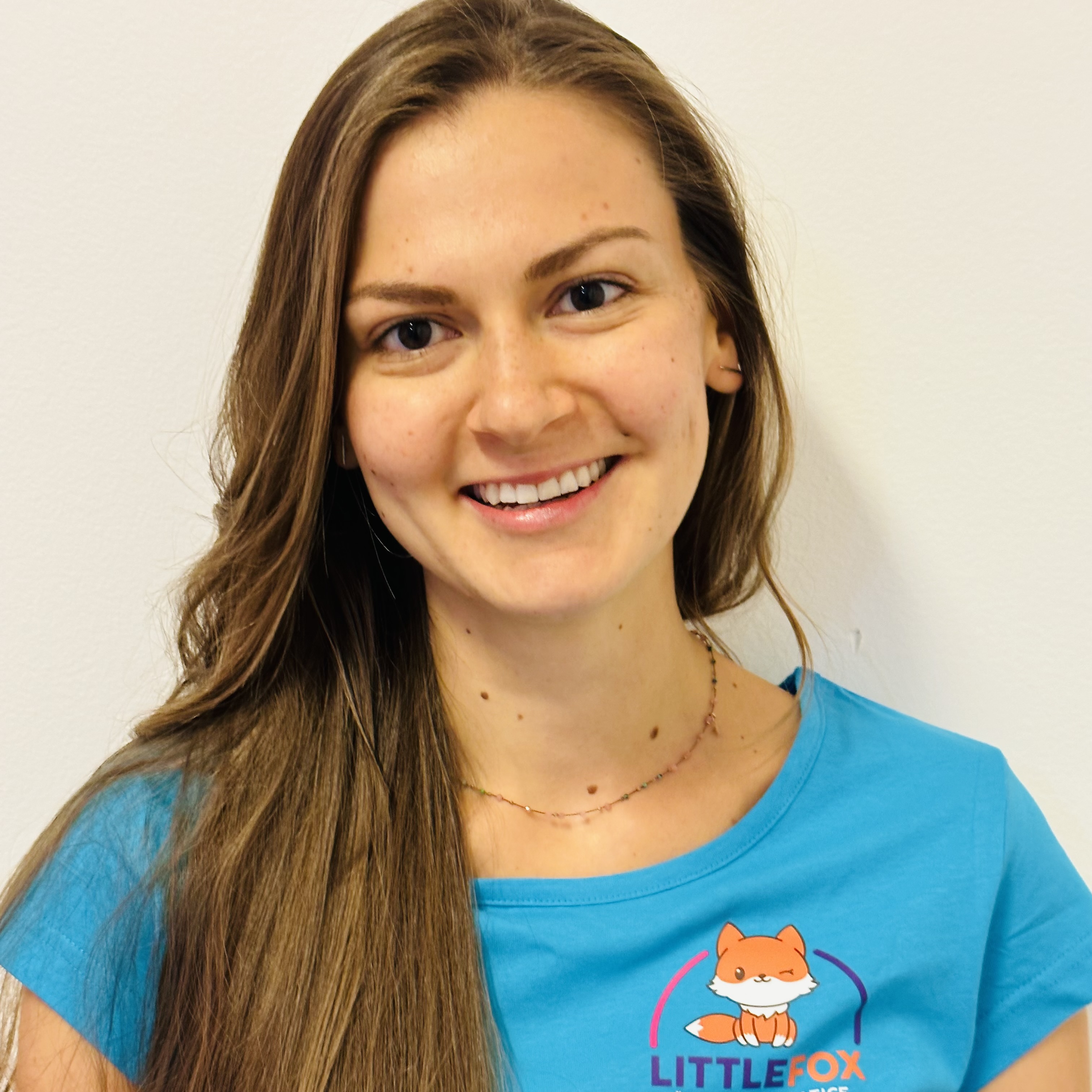 Bc. Klára Boháčová
Czech teacher in the Owls class/ lecturer of the ballet class

Klára was born and raised in Prague. She developed her interest in pedagogy and art education with a focus on education during her studies at the Faculty of Education at Charles University. Already during her gymnasium studies she gained her first experience with preschool children while participating in summer suburban camps organized by the private kindergarten Čtyřlístek. She was very interested in working with children and decided to continue working with them. During her university studies, she worked as a lecturer of educational programs for children within the framework of the Traces project, which was organized by the Prague Jesuit Monastery. She also gained experience as an educator of children in cooperation with the YMCA Familia organization. After completing her university studies, Klára started working as a teacher in a private kindergarten in Dolní Břežany, where she took care of children aged 0 to 6. Klára also had the opportunity to work as a teacher at the first level of primary school. However, she realized that her true calling is working with younger children, which fulfills her and makes her happy. Klara believes that children under her guidance will also feel happy and full of joy. In her spare time she enjoys dancing, an activity she has been doing since childhood. She also enjoys art activities and techniques such as watercolor and modern calligraphy. She also relaxes by cooking, reading and walking in nature.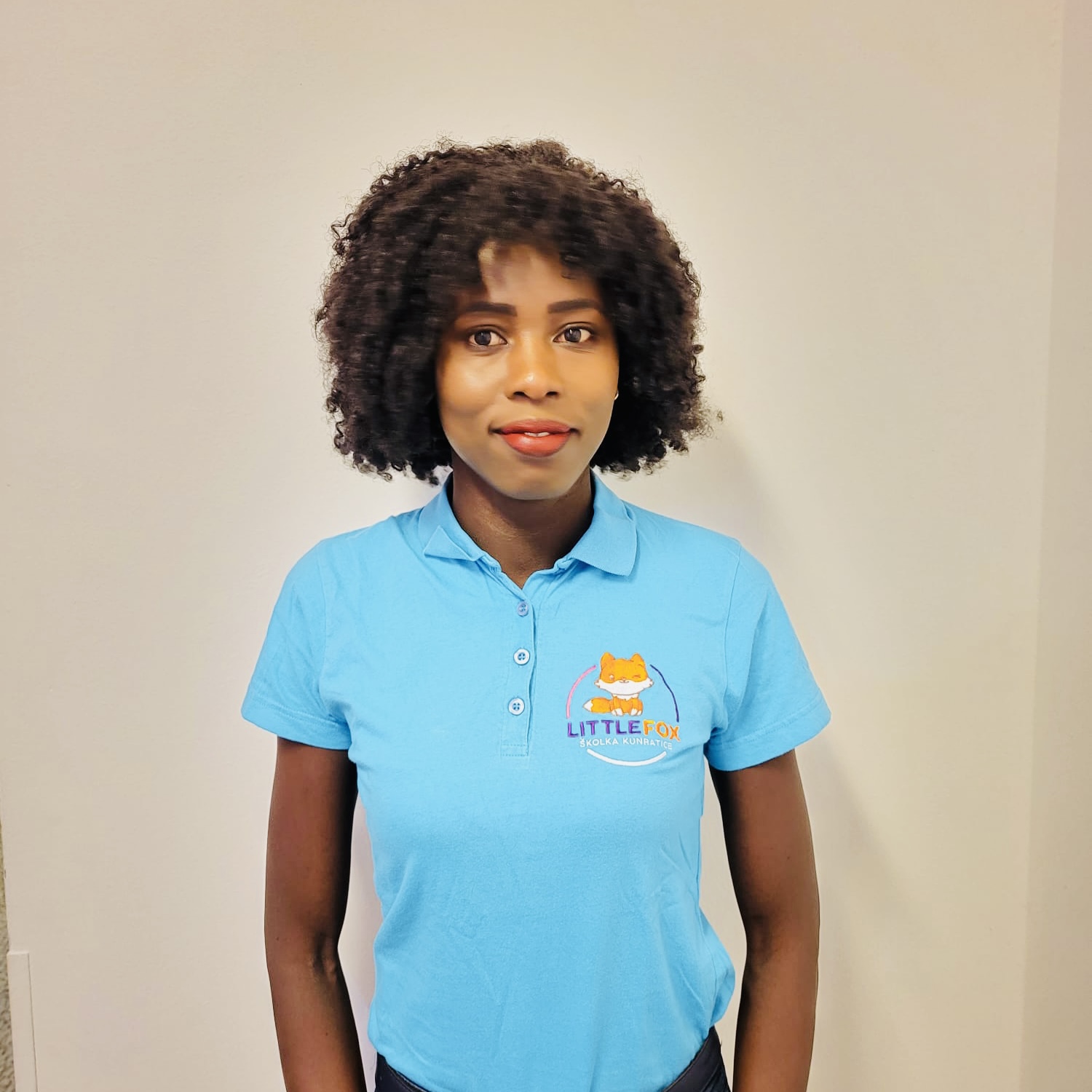 Auma Odiwa
English teacher in the Owls class/lecturer of the sport course

Auma was born in Kenya, Africa, where she studied early childhood education. She started her career as a kindergarten teacher in 2009. Auma loves traveling, which has taken her to different countries and eventually she decided to settle in the Czech Republic, she has been living in Prague for more than five years. She says of Prague: "Prague has enchanted me, it is one of the most beautiful and unique cities I have ever seen". She is pleased to have discovered her calling in life, which is working with children. Aumu finds it fulfilling to be able to pass on her experience, skills and abilities through her work to future generations. For her, working with children is not only a job but also a joy in her everyday life. Auma is constantly learning, and has recently become interested in teaching English using the Jolly Phonics comprehensive method, which opens up the possibility for teachers to work creatively with pupils. Using the Jolly Phonics method, children learn to read and write in English, a method suitable for both native speakers and children learning English as a second language. Auma believes that parents all over the world want health, joy and well-being for their children and therefore treats parents and children with respect. She feels it is her duty as a teacher to help children develop to the best of their abilities. In her spare time she enjoys attending cultural events, spending time with her friends and also likes to go for walks in the countryside.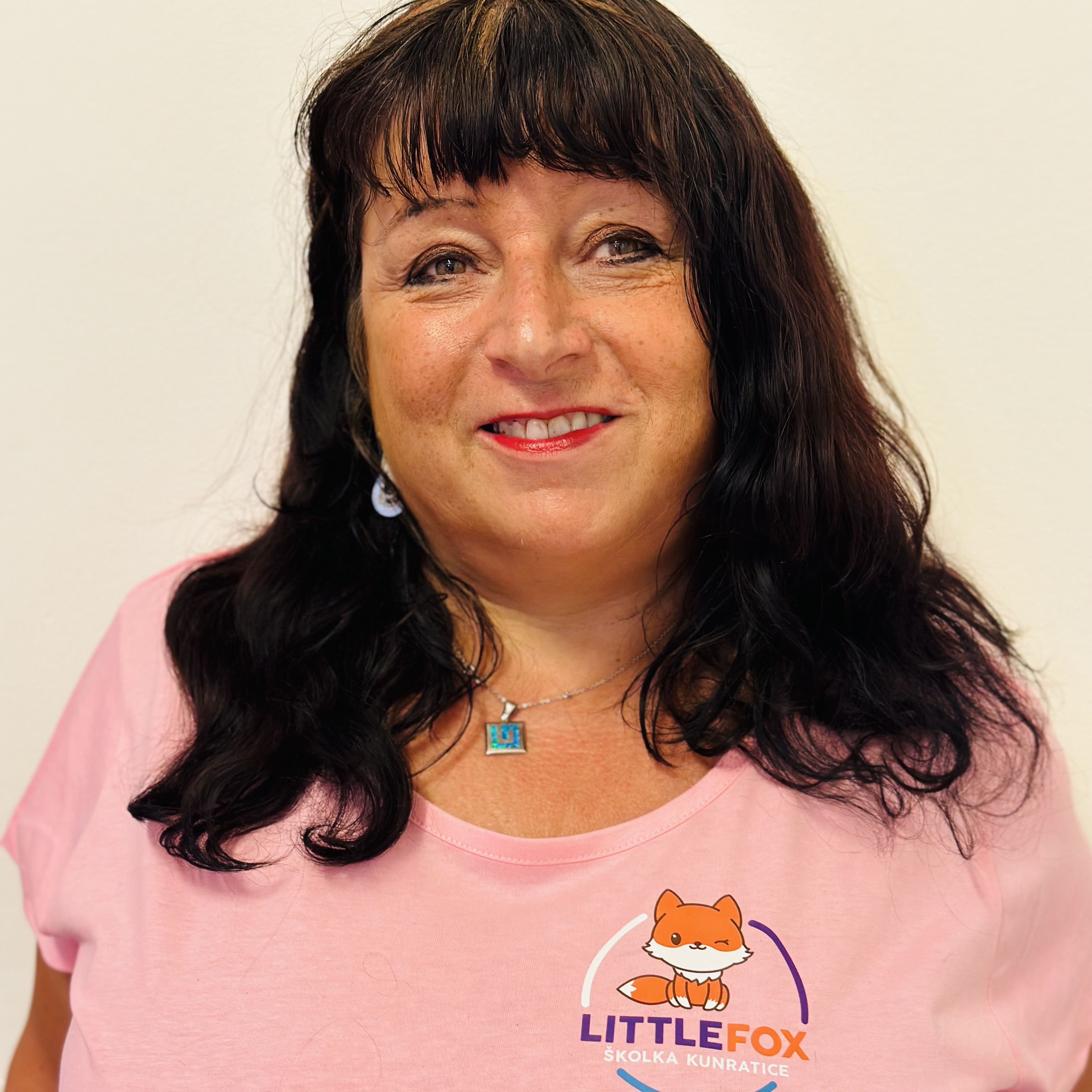 Petra Blažková
Czech teacher in the Kittens class/ Lecturer of the "Little Explorer" course

Petra studied at a secondary medical school, but her dream since childhood was to work with children, so she decided to work with children right after her studies. First she worked in a children's group, then she began to enrich her career by working in nurseries, kindergartens and also as a tutor in the non-profit organization Klokánek. She loves children because of their immediacy, carefree nature and also because, unlike adults, they believe in fairy tales and that is very beautiful. Petra has a lot of experience in educating children, mostly children aged 2-3 years old, and has accumulated countless experiences that she wants to pass on to children. She has also participated in several professional seminars and lectures, which have always been of great help to her in educating children. In her spare time she likes painting, writing stories and fairy tales, and she enjoys travelling and spending time with her family.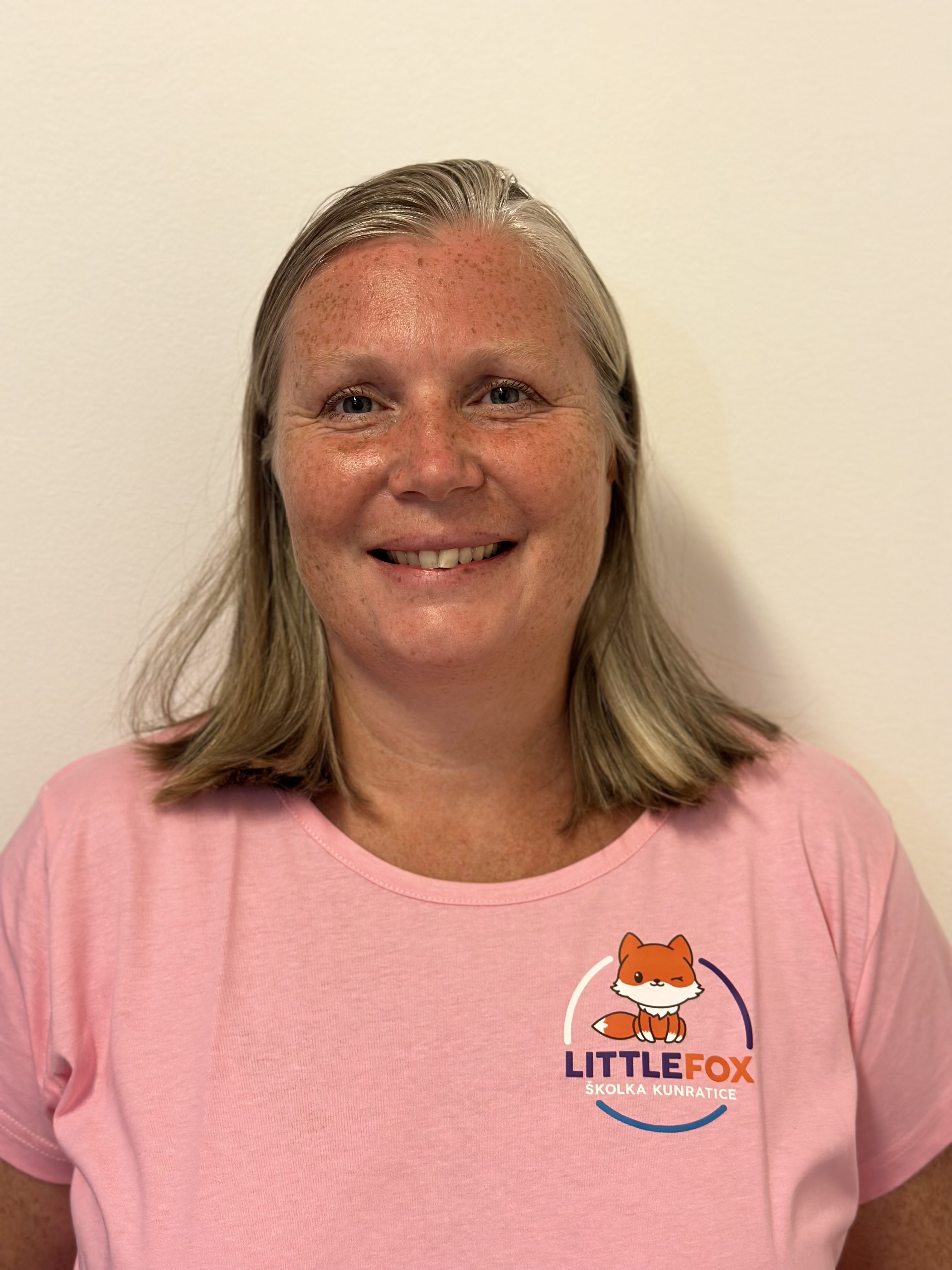 Adéla Sigsworth
Czech teacher in the Foxes class

Adéla was born in Prague, where she studied physical education at the Palestra College of Education. She gained experience with preschool children at the English International School Prague, where she worked for several years. Her life journey led her to the UK for ten years, to London and Windsor, where she worked as a teaching assistant and primary school teacher. After the birth of her two sons, Frederick and Henry, she began working in the field of bilingual education. She applied her experience in bilingual pedagogy in London, at the Czech School without Borders, where she worked with Czech preschool children on language development, maintaining Czech culture and traditions. After returning to Prague, Adéla decided to deepen her experience in the field of preschool education by studying Montessori pedagogy for ages 3-6 at Montessori CR. Adéla considers the goal of her work to be educating with love and respect, strengthening the child's self-confidence and learning to be independent. Adéla enjoys practicing children's yoga and has obtained her qualifications by completing several certified courses of the Czech Association of Children's Yoga. Currently Adéla is studying teaching at the Faculty of Education of Charles University. Her hobbies include practicing yoga, cycling, water sports, trips to nature and skiing in winter.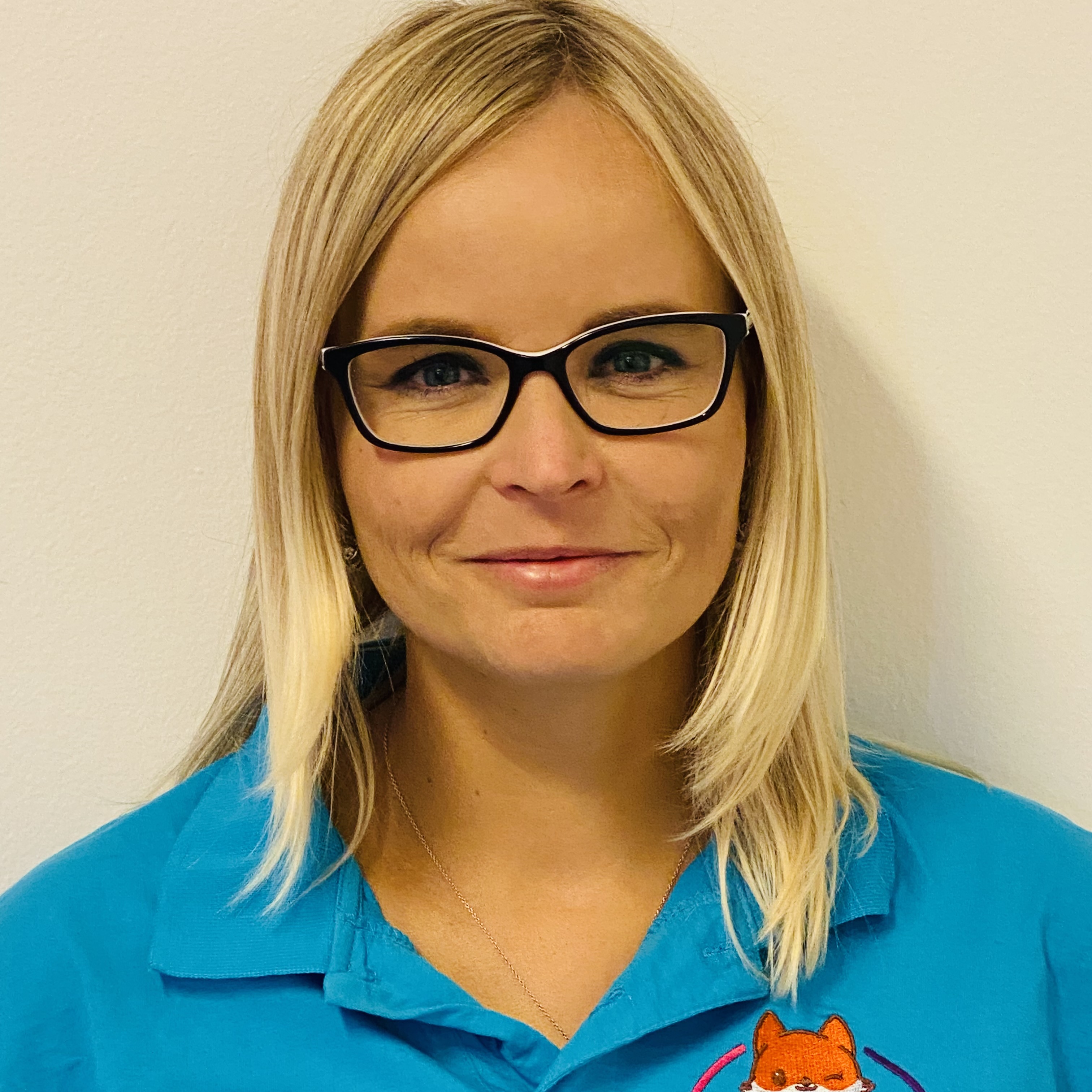 Dana Tálová
Czech teacher in the Kittens class

Teacher Dana has extensive experience in the field of preschool education for children aged 2-3 years, in the past she also worked as a lead teacher in a Montessori children's group. Currently she is studying at Bean High School of Early Childhood and Out-of-School Education, she has completed various courses focused on children's education such as Activities of Daily Living, Sensorimotor Material I and Montessori Philosophy, First Aid for Young Children and Enthuse Children to Create, etc. Her dream has always been to work with children, to create with them and to prepare an interesting program for them. At Little Fox Kindergarten, she will be working with the Skillful Hands Club, which focuses on flower arranging and hand coordination, where children will learn how to arrange flowers, wrap presents, create cards and create a variety of activities related to art skills. In her spare time, she enjoys crocheting and flower arranging, but most of all she enjoys her family and her two daughters, ages 8 and 11, as well as gardening, handicrafts and photography. She enjoys sports and exploring new places. Dana loves the world of children immensely. She has a cheerful nature, is patient and empathetic.
Tomáš Filip
Director of Finance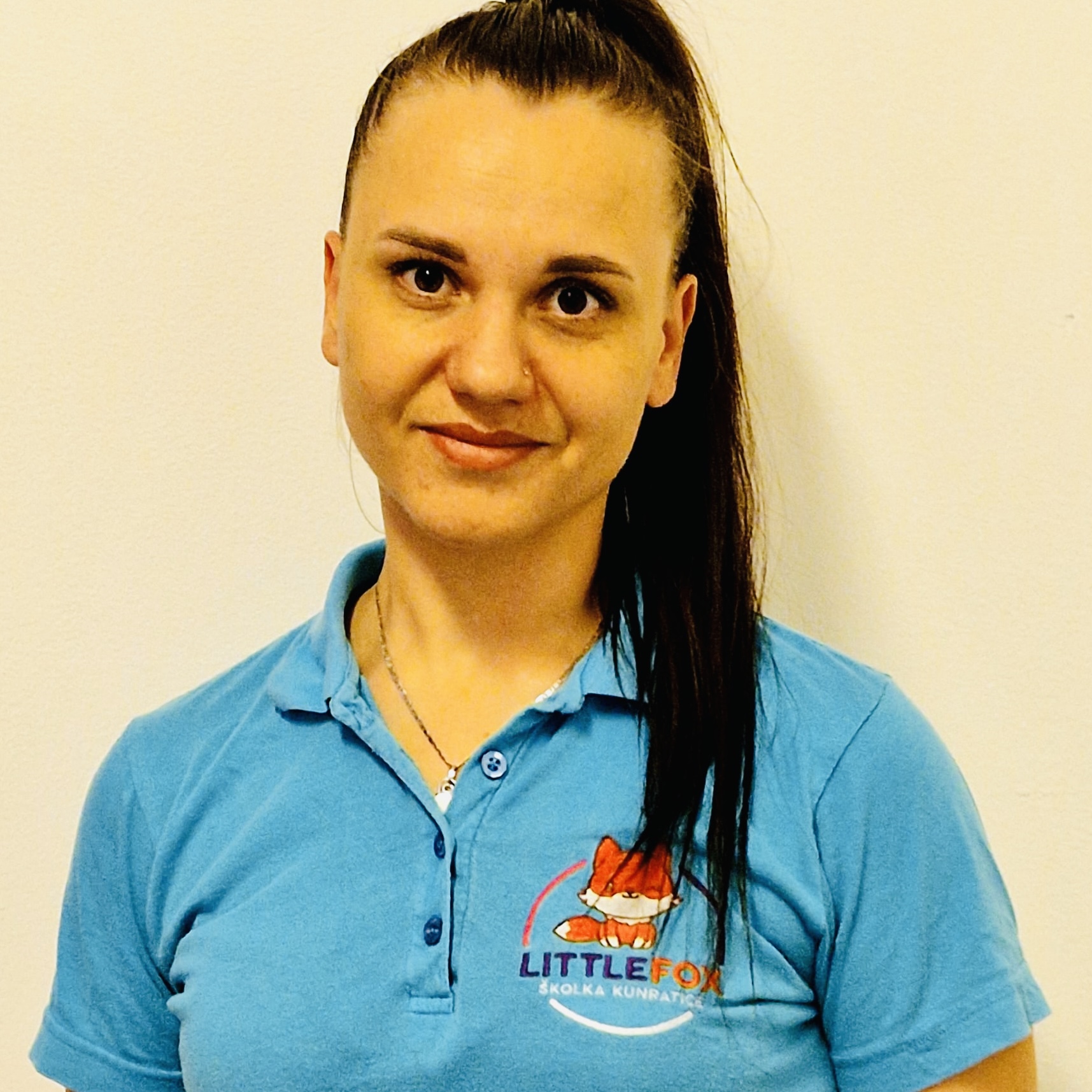 Lesia Klenski
Operational assistant/teaching assistant

Lesi was born in Ukraine and has been living in Prague for seven years with her family and two children. Lesi is a mother of two beautiful boys who inspire her daily to live and work with children. Her love for children led her to Little fox Kindergarten, where she started helping the teachers with teaching preschoolers as an assistant in the kittens and foxes class. The children have loved her since day one and she always comes to work with a big smile and joy. Lesi decided to further her education by studying nannying for preschool children and taking an English language course. Lesi looks forward every day to seeing what new things she can experience with the children. She is very fond of children and loves to watch them develop and as they learn something new, she always observes what makes them happy. Lesi is also involved in sports games at Little fox Nursery and enjoys creating art materials with the children to teach them.